How Is a Full-page Chrome Screen Capture Advantageous to Students?
Are you looking for a full-page Chrome screen capture tool? NinjaCapture comes with a handful of features that ensure you do more with the screen capture tool in your learning environment.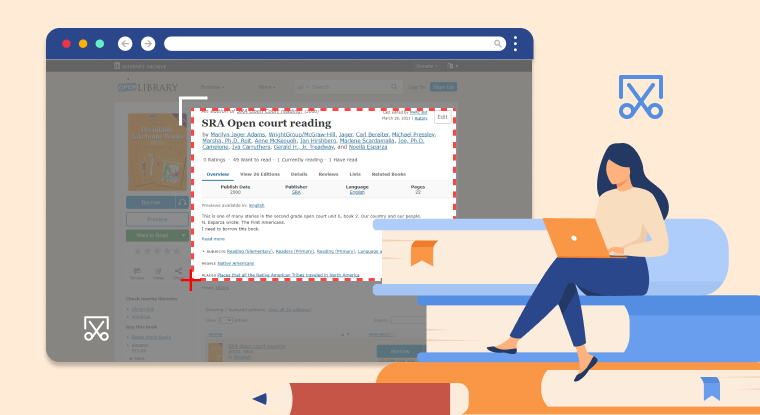 Screen capture tools have made life easier for most individuals and businesses. Students have benefited the most since they can use their digital devices to improve learning. A full-page screen capture tool can be quite handy if you're studying online. This article helps you understand more about a screen capture tool and how it can be helpful to your learning environment.
What Is a Full-page Screen Capture?
Full-page screen capture is a tool that allows you to take a full screenshot of your current window. While it's possible to take a screenshot of the entire screen, the tool also allows you to crop and screenshot a small section.
The right screen capture tool is helpful in any learning environment. For instance, if you're studying in groups, you can share a screenshot with your team to explain a specific concept. Since a reliable screen capture tool allows for third-party integrations, you can share the image to other communication platforms, such as emails, instant messaging apps, and more. This makes it convenient to share ideas when learning.
You can gain a lot by using a full website screenshot tool. The following lines describe how a full-page screen capture is of great importance to students.
How Can Full-page Chrome Screen Capture Help Students?
Most people, including students, underestimate the power of screen capture tools. While most people use these tools for personal reasons, screen recording tools can be helpful in any learning environment. If you've not thought about using a full-page screen capture in class, the following are creative ways you can make this tool handy.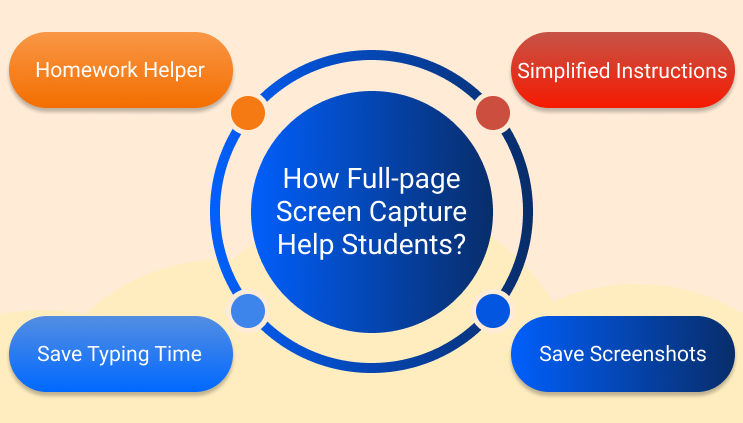 1. Homework Helper
Gone are the days when students had to print classroom material to share with their study groups or study partners. To save on time and money, you can take several screenshots of the most important sections you want to share with others. Recommended tools like NinjaCapture give you the advantage of third-party integrations for file sharing. Therefore, you can share the captured screenshots on other communication platforms or even save them on the cloud. Collaborating with your classmates is made easier since you can share ideas effortlessly.
2. Simplified Instructions
Students can use full-page screenshots to create step-by-step guides or tutorials. Instead of writing lengthy instructions, screenshots can deliver and still ensure that your audience understands the message you're trying to pass across. Such clear instructions are perfect for technical courses such as computer science, mechanical engineering, electrical engineering, and information technology. Of course, this doesn't mean you're limited to using a screen capture tool for technical classes alone. The point is that the software can make a huge difference in creating simplified instructions.
3. Save Typing Time
Instead of typing a list of things you want to share with your team, you can take a full website screenshot. This saves time since you can focus more on making the required edits before sharing the screenshots with your classmates. NinjaCapture comes with a comments and discussions feature. This feature lets your classmates comment on your shared images or video recordings. Again, this makes it easier to learn and share ideas where necessary.
It's worth noting that the comments and discussions feature also pave the way for engaging discussions. If you're describing a certain concept, your classmates can leave their feedback or make comments in real-time.
4. Save Screenshots for Future Use
Learners can save the screenshots for future use. This also applies to the video recordings you will be making to promote better learning. NinjaCapture allows you to integrate with third-party storage apps. Therefore, you can securely store your learning materials for future reference. Whether you're thinking of keeping it in Google Drive, Box, Dropbox, or in the cloud, you can do this using NinjaCapture.
Full-page Screen Capture Tools
There are many screen capture software online. Unfortunately, picking the best full-page screen capture tool is daunting. To help you get started, we recommend using NinjaCapture. Other tools you might stumble upon while doing your search include:
Snagit
Adobe Captivate
iFun Screenshot
Screenpresso
Important factors to consider when choosing a screen capture tool include the price, ease of use, recording options, editing functionalities, and sharing options. These factors should ensure you settle for the best software with powerful features.
A full-page screen capture tool isn't only helpful in social settings. The chances are that you might have been using screenshots to engage with your friends without knowing that you can use screenshots in class. Learning is made easier if you use the right tool to take screenshots and share them with your peers. 500apps team developed NinjaCapture to ensure the tool can meet all your screen recording demands. The tool is packed with powerful features, and it's free for 10 users. You can add it to your Chrome browser to ensure you find it easy to take quick screenshots and share them widely.
What Makes the Best Screen Recorder Extension?
#1
Record unlimited HD quality videos
#2
Take screenshots of entire screen, a selected area, and clipboard
#3
Edit screenshots and videos using advanced annotation tools
#4
Get access to unlimited recordings for FREE for 3 months
#5
Upload files securely to cloud applications like Drop box, Google Drive and 500Box
#6
Share recording links and get reviewer comments
#7
Personalize screenshots, videos with no watermarks
#8
Manage privacy settings to public, private with auto-generated password
#9
Unbelievable pricing - the lowest you will ever find
#10
Everything your business needs - 50 apps, 24/5 support and 99.95% uptime
Join the SaaS Revolution
All-in-One Suite of 50 apps

Unbelievable pricing - ₹999/user

24/5 Chat, Phone and Email Support