Save Web Pages, Articles, and Pdfs - Effective Use of Full Page Screen Capture
With crucial information being available in abundance and often discredited or changed with contradicting data, it is vital to save that right information fast and easy, and right at your finger tips.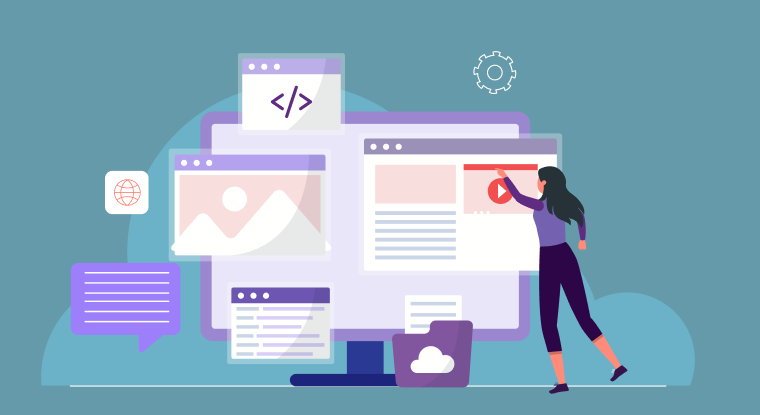 Taking a screenshots of something important on your computer screen has become a trend many people follow. For example, students take screenshots when they see something meaningful for their education on the computer. Furthermore, business entities also do the same. Therefore, it will not be wrong to say that taking a screenshot has become common in a person's life.
There are numerous tools online that can help you take screenshots. Some high-end applications also allow you to record videos and audio, apart from taking a screenshot. A popular tool that helps you with all of these is NinjaCapture.
NinjaCapture – What is it All About?
NinjaCapture is a screen capture tool used by individuals and business organizations alike. The browser extension lets you take tailor-made screenshots and easily share the same with others. In addition, NinjaCapture allows you to take an unlimited number of screenshots, video capture and recordings, which is one of the its key features.
When you use NinjaCapture, you need not worry about the safety of the recordings or screen captures. Instead, you can use a PIN to safeguard the data. It also works seamlessly with cloud-storage services, including Box and Google Drive.
Awesome Features of NinjaCapture
NinjaCapture is one of those few screen capture chrome extension with some beneficial features. You can use these features to your advantage for future reference. Some of these features are hereunder.
1. Audio Recording
After instant access to your computer microphone, NinjaCapture allows you to record high-quality audio at the click of a button. You can also share the recording with whoever you want.
2. Screen Recorder
Enjoy taking screenshots of web pages effortlessly in a video format using the NinjaCapture screen recorder tool. You can also choose an area of your screen that you wish to record and share with others.
3. Screenshots
NinjaCapture, screenshot chrome extension allows you to capture screenshots of web pages. You can either take a screenshot of an entire web page or choose a portion of the page that you need to save as a screenshot. Sharing the screenshot is equally simple on this tool.
How to Take a Screenshot of an Entire Web Page?
Taking a full page screen capture using the NinjaCapture extension by 500apps is pretty simple. After you open the Chrome extension, the first choice that you get is taking a screenshot. There will be several options under the Screenshot Capture section, such as Visible Page, Full Page, Select Area, Upload, and Count Down.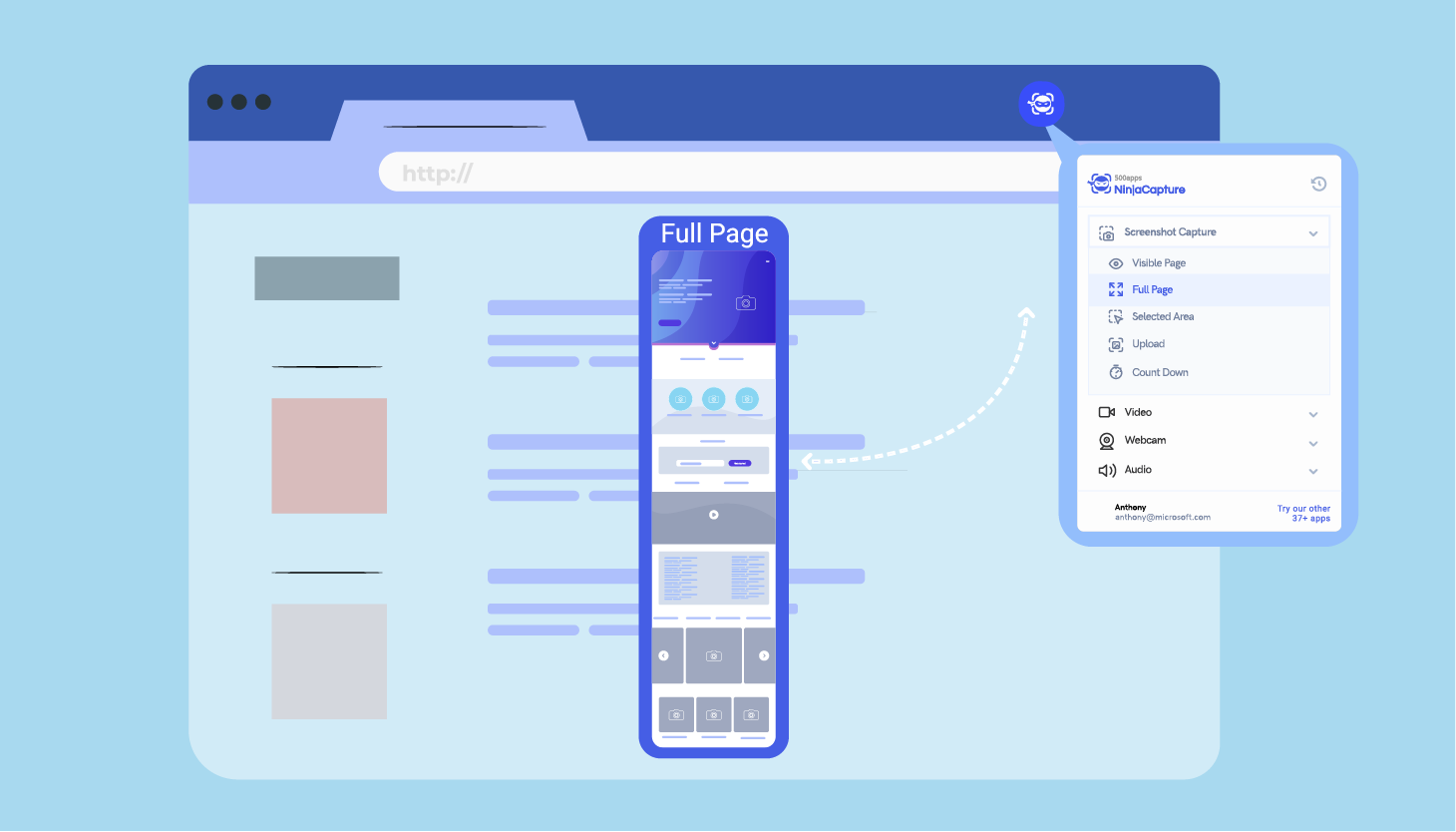 1. Visible Page
When you choose the Visible Page option, the tool will allow you to take a screenshot of the visible portion of a web page on your screen.
2. Full Page
When you choose this option, it will let you take a full page screen capture. You need not scroll down to help the extension take the screenshot. It does so automatically.
3. Select Area
Choosing this option will enable you to select the area or part of a web page you wish to take a screenshot of. This is suitable when you do not want to take a full page screen capture or the visible part.
How to Save the Screenshot?
Once you choose either of the given options, NinjaCapture takes the screenshot and opens the captured image on another tab.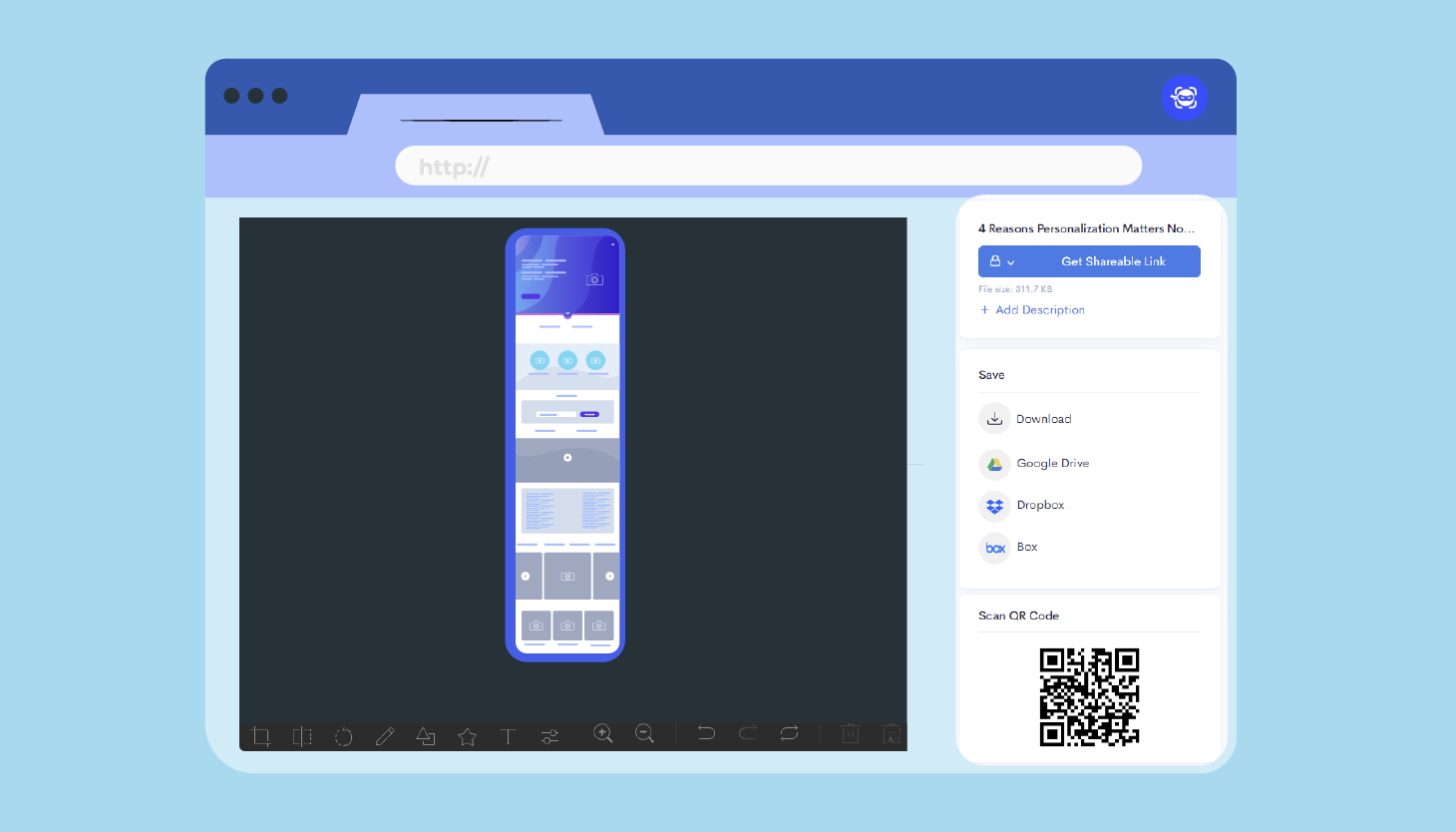 1. Shareable Link
You will get the option of getting a shareable link of the screenshot, which you can share with others. You can also add a description of the file for easy reference.
2. Download
As you go further down below, you will get the option to download the screenshot. You can do so to save it on your computer.
3. Save It on a Cloud
If you do not wish to save the screenshots on your computer, you may also keep them on a cloud, such as Google Drive, Box, and Dropbox. NinjaCapture also allows you to modify the screenshots according to your needs. For example, you may add a text on it or crop it further. You may also add icons and shapes to the screenshots. The tool is a complete package as far as screenshots and screen recordings are concerned.
Taking a simple screenshot has become a thing of the past. These days, people may need to modify their screenshots to get a message across clearly. Therefore, if you want to use a screen capturing tool, it will be wise to choose an app that comes with all the necessary features and does not burn a hole in your pocket. Since there are plenty of options available for you, better compare the different tools and choose the best.
What Makes the Best Screen Recorder Extension?
#1
Record unlimited HD quality videos
#2
Take screenshots of entire screen, a selected area, and clipboard
#3
Edit screenshots and videos using advanced annotation tools
#4
Get access to unlimited recordings for FREE for 3 months
#5
Upload files securely to cloud applications like Drop box, Google Drive and 500Box
#6
Share recording links and get reviewer comments
#7
Personalize screenshots, videos with no watermarks
#8
Manage privacy settings to public, private with auto-generated password
#9
Unbelievable pricing - the lowest you will ever find
#10
Everything your business needs - 50 apps, 24/5 support and 99.95% uptime
Join the SaaS Revolution
All-in-One Suite of 50 apps

Unbelievable pricing - ₹999/user

24/5 Chat, Phone and Email Support