All to Know About Screen Recording Extension
You want to make compelling visual content? Well, here's how screen capturing software can help you achieve that`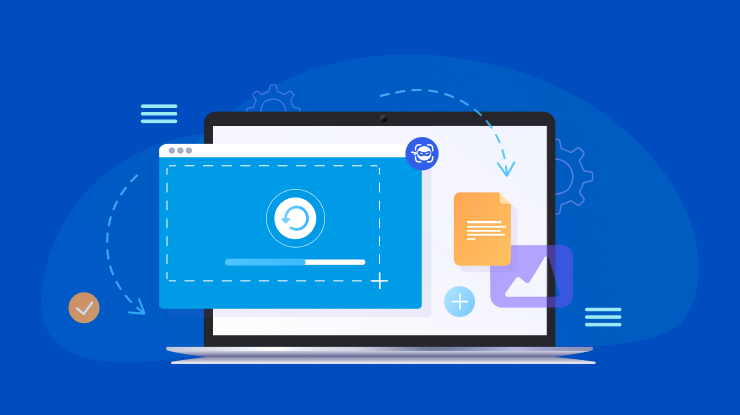 Human beings are always open to learning and growing through interactions and experiences. Be it word of mouth from a mentor to a mentee or from sitting in a classroom, your ears tuned towards the wise words of your educator, whatever the reason, you are learning, and in a way that suits you best. But have you ever thought about making that learning experience more enthralling, entertaining, and informative than it already is?
Well, look no further. These days there is a way to make learning so much more than it currently is through the stimulation of visual receptors. It is common knowledge that seeing is believing; this saying makes itself known for visual learning experiences. But the question then becomes, 'how to create a compelling visual learning experience?' Well, this is where screen capturing tool.
Screen recording extension is a user-friendly tool that can capture music, video, and any other information you may play on your computer at the same time. They provide one-of-a-kind, time-saving solutions for improving the display of collected content. The point is that screen capture tool allows you to record the output of a computer screen.
I want only to capture a minute part of reality Henri Cartier- Bresson, a French photographer had this to say about screenshots.
Unlike traditional pictures or videos taken with a camera, capturing an image or recording of on-screen activity requires the use of a screen capture program. By using the screen capture and screen recording features of a screen capture tool like NinjaCapture, you can communicate more clearly than you could with text alone, be it in a physical meeting with clients or a virtual session with both local and foreign bodies.
What to Know About Screen Recording Extension?
Screen Recording Extension is used to take a snapshot of the desktop and save it as a picture file, or they digitally record the activities of the computer desktop over time. Businesses benefit from screen and video capture tool because it allows users to share what they view on their displays.
If, as a business owner and your goal is to create a compelling visual experience, then using screenshots and screen recorder is sure to help. For example, they are the most effective visual aids for explaining computer procedures. These tool is frequently used in eLearning courses that educate how to navigate a new tool or utilize an application. It's logical since the students get to view and operate in a virtual version of the real-world setting they'll be working in when they return to their desks.
Screenshots are also useful in classes that teach students how to fill out forms and submit them online. You may then add text blocks and arrows to clarify words and jargon and point out relationships between the different components on the screen to enrich and improve these visualizations.
While screen capture tool varies in price and capability, they all have a few common characteristics, such as a video frame that may be adjusted, choices for cut-and-paste editing, etc. Other amazing features include:
1. Extraction of Text
You don't have to retype the text from a webpage. The text may be extracted from a screenshot image or video using the capturing program. This allows you to modify the text easily or copy it into another document for further editing, saving you a lot of time and work. Capture a process via screenshots and screen recordings, mark up the video, extract the words, and produce bespoke how-to guides, tutorials, and short movies using screen recording extension.
2. Audio Recording
Recording audio for the video is critical since no video is complete without background music. The screen recording tool records the audio either using a microphone or through the system audio to make the movies interesting and relevant. This feature also allows for improved audience involvement and increases the production value. Ninjacapture, for example, allows you to record audio with a single click and establishes a positive relationship with your audience.
3. Annotation
On the internet, there are very few resources that have quality markup tools. NinjaCapture, on the other hand, has all of these markup tools built in to help you add professionalism to your screenshots and turn them into aesthetically appealing graphics. Create your own in the editor or select one from the tool's library. Whatever the case may be, the visual portrayal is stunning. Professional markup tools can be used to annotate screen captures. With a choice of pre-made styles, you can give your screenshots individuality and professionalism. You may also make your own.
4. Moving and Editing Tools
The screenshots are huge or may follow certain guidelines because it contains a predefined tool editor, the program aids in simplifying the graphical portion. The smart moving tool can help in moving the aspects in the captured images. From rearrangement to edition, from deleting to reframing, anything is feasible inside one screen capturing program.
5. Video Trimming
Either record the videos and capture a quick snapshot that reflects the fascinating part or takes a short video and turn it into an animated GIF. This GIF may be used in websites, papers, and conversations. The online screen capture program generates the ideal animated GIF for your requirements. You can also trim videos until they are short enough to become GIFs. Also, when trying to trim or combine two videos, video editing takes a lot of time and work. Our screen capturing program, on the other hand, makes this simple. Cut undesired segments from the beginning, middle, or finish of the recorded video with ease.
What Can You do With Ninja Capture?
The fact is that screens may be captured, annotated, and shared, and this is where Ninjacapture comes into play. NinjaCapture is a screen capture tool with specialized screenshot capture capabilities which make it simple to communicate what you're viewing with coworkers and customers. It has several features that make it the number one screen capture tool out there. These features include;
Screen Capture All-in-one
To improve business thoughts and references, Take a screenshot of your whole desktop, a specific region, a window, or a scrolling screen. Take screenshots of whole web pages or just a part of a page in seconds. Choose from a variety of Screencast options, including visible page, full page, and select region. With only one click, you can get whatever you want.
Screenshot of the Entire Page
Ninjacapture makes taking a screenshot of a full web page simple. Vertical and horizontal scrolls, endlessly scrolling webpages, lengthy chat messages, and everything in between are all available. Ninjacapture combines all of your activities into one.
Screen Capture in a Specific Area
Ninjacapture lets users choose a specific area on the desktop and take a screenshot of it. Allow just the specified part to be shown to the end-user.
Webcam and Screen Recording
Ninjacapture recognizes web camera recording to add a personal touch with the target audience, and this function helps companies establish excellent affinity with end customers and hook them up. During a video recording, choose between camera and screen recording, or resume with both. You may also videotape yourself as you go through the stages. Alternatively, you can take individual frames from the recorded movie. Save your video as an mp4 file and send it to anybody.
Share and Store Instantly for Access Anywhere and at Any Time
Ninjacapture now has the ability to share and save screen grabs and recordings with a variety of corporate communication and cloud storage tools. It is possible to access it from anywhere and at any time. With only one click, you may pursue your goal. You may also use Cloud-Based Storage Applications to save your files. Ninjacapture is compatible with several different save locations. You may save your chosen captures and recordings in Box, Dropbox, Google Drive, Onedrive, and iCloud with only one click. Publish on Business Channels
Ninjacapture can also share your favourite captures and videos with Slack, Microsoft Teams, and Skype. Sharing too many ports of call is a problem. Whatever the workplace, there are sharing tools where films or photos may be shared with the company without difficulty. NinjaCapture, an online screen capturing program, has all of these capabilities and is on the cutting edge of providing you with the most convenience and security while capturing or recording movies.
Benefits of Screen Recording Extension
1. You Can Save Any Content
Screen recording extension is, without a doubt, the most effective technique to save anything that appears on your screen. This covers app and tool content and internet streaming videos, video calls, and other services. This type of tool is highly beneficial to professionals, as it increases productivity and efficiency by allowing users to and rapidly exchange knowledge.
To summarize, if you want to keep anything on your screen, you may use screen recording tool. It will allow you to keep a copy of essential business meeting transcripts, store important video chats, and even capture missed meetings.
2. Simplify Problems & Solutions Explanation
When giving a solution or explaining problems digitally, screen recording comes in handy. You can show others the problems you're having and, on the other hand, provide a solution. On a more serious point, technological help in the business sector would be more suitable. By precisely identifying the problem you're encountering and sharing it across teams, it will be handled quickly. It will allow you to record videos so that others may see the difficulty you're having, or you can show them how to fix their difficulties.
In general, this can be beneficial in a variety of ways. One of the most important is that having a video that demonstrates your difficulty will make it easier for you to seek technical assistance.
3. Employee Training Can Be Conducted Effectively
The usage of screen capture extension substantially increases the efficacy of instruction. After you've assessed an employee's performance, the following step is to train them. Make your recordings of the lessons and lead training sessions using real-world examples. This allows trainees to connect the concept more effectively, resulting in better knowledge training implementation across the company.
Instead of dictating or speaking, the program's practicality allows users to delve further into understanding the ideas, which is how it is utilized extensively from a small business to a huge corporation.
Wrapping Up
There are several features of screen recording extension that can help you pursue compelling visual learning experiences. These features are there for you to maximize and utilize to their fullest potential. Ninjacapture makes the entire process quick and seamless. You should try Ninjacapture out today and see the participation and productivity of our team skyrocket. This is because visual content is much more familiar and interesting, so you can be sure that your employees or clients will appreciate you taking the initiative to make them more comfortable and engaged.
The following features must be included in a good screen recording extension, one like Ninjacapture:
The entire screen or a specific region is recorded.
A user-friendly interface that is simple to utilize.
Audio recording from the microphone and the system at the same time
Export the captured footage
Allows you to annotate the footage you've recorded.
What Makes the Best Screen Recorder Extension?
#1
Record unlimited HD quality videos
#2
Take screenshots of entire screen, a selected area, and clipboard
#3
Edit screenshots and videos using advanced annotation tools
#4
Get access to unlimited recordings for FREE for 3 months
#5
Upload files securely to cloud applications like Drop box, Google Drive and 500Box
#6
Share recording links and get reviewer comments
#7
Personalize screenshots, videos with no watermarks
#8
Manage privacy settings to public, private with auto-generated password
#9
Unbelievable pricing - the lowest you will ever find
#10
Everything your business needs - 50 apps, 24/5 support and 99.95% uptime
Join the SaaS Revolution
All-in-One Suite of 50 apps

Unbelievable pricing - ₹999/user

24/5 Chat, Phone and Email Support