List of 6 Screen Recorder Chrome Extensions: Totally Free 2022
Are you looking for a screen recorder for your Google Chrome browser? Check out this list of 6 free screen recorder extensions for Chrome in 2022.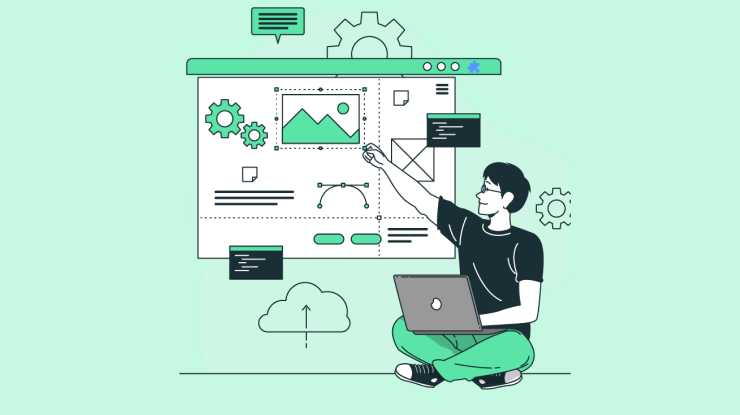 You may know it as a screen recorder, screencasting software, screen capture tool, or screen recorder extension. These are different names of the same application or valuable tool in capturing or recording a computer's screen. The functionality and cost may differ from one application to another. However, their features are, more or less, the same.
With so many options available for you, a careful comparison is necessary to make the best choice possible. There are several needs for using a screen capturing tool. For example, you may use it to create an online educational course, record a new strategy in your favorite video game, make a helpful video tutorial, or market your new business to online consumers.
What is a Screen Recording Software?
As the name suggests, a screen recording software is used to record whatever is shown on a computer screen. Such a tool is not just useful for firms; even individuals can use screen capturing software. For example, if you wish to make a tutorial of some kind, a screen capture tool may prove helpful to you.
A screen capture tool can come in handy if you wish to take a screenshot of something important that you find on a website. You can save the screenshot and use it as a guide in the future. Even gamers can use this kind of application. For example, if you have come up with a new technique for overcoming a level in your favorite game, you can capture it using the tool and use it to educate other gamers.
Essential Features of the Best Screen Recorder Tool
The market is flooded with a variety of screen recording tools. Although they work in, more or less, similar fashion, they differ in terms of usability and price. Using such a tool can help you do a lot of things. For example, you can record videos, take screenshots, and record any audio file. Whatever be the cause, some of the best screen capturing tools share the same features.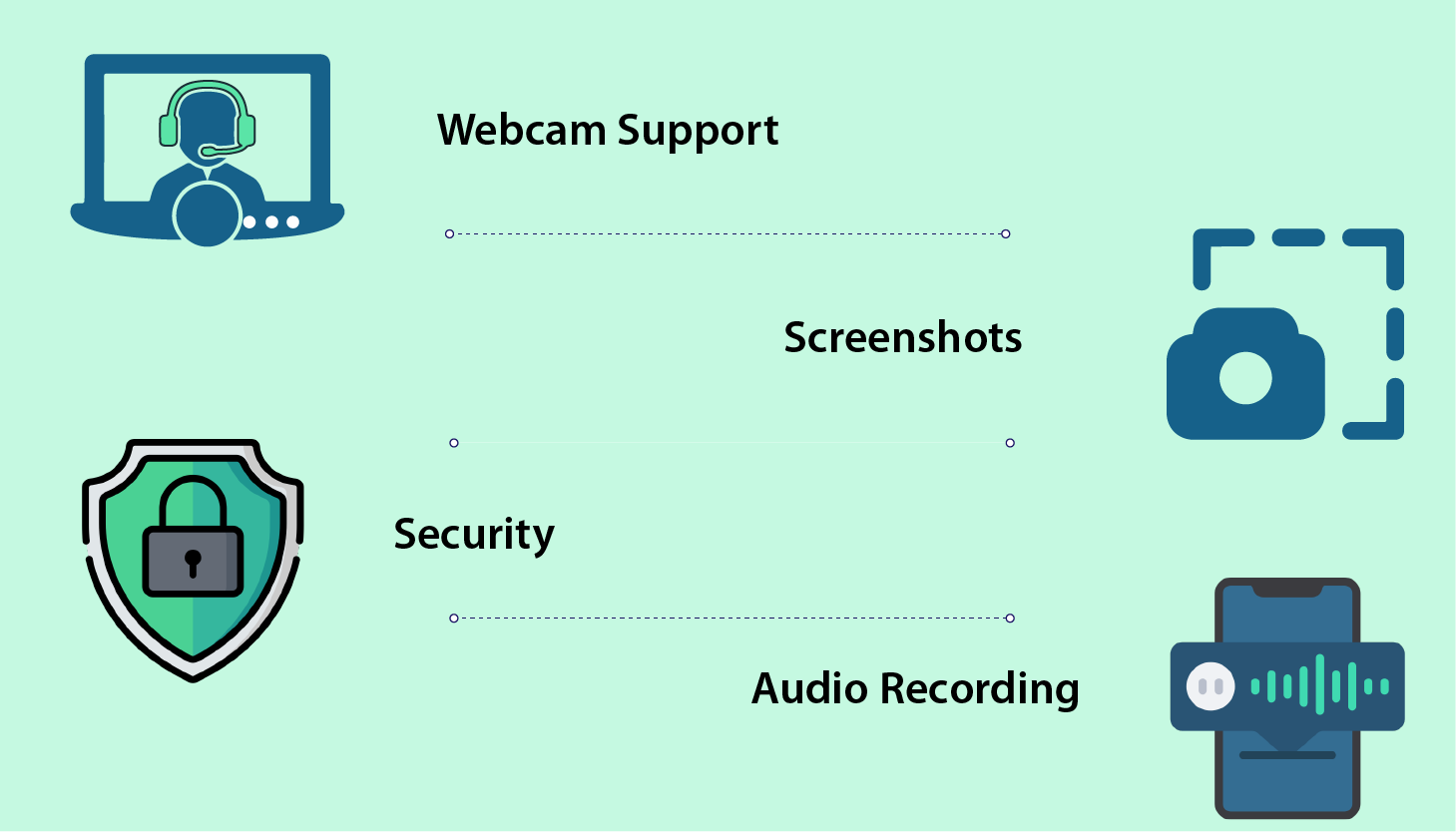 Webcam Support
This feature allows you to record webinars and various other narratives through your webcam support. You can save the recordings on your computer to share with others or use them for future reference. Webcam Support lets you build a good rapport with your end-users or consumers. It will prove one of the best ways to provide a clear and reliable presentation of your work.
Screenshots
With the screenshots feature, a good screen capturing tool will let you capture the contents of a web page through screenshots. You can capture screenshots of different sizes and customize the files as per your needs. Then, save the files or share them as you like. Taking instant screenshots can help you save time, and keeping them can help you use the screenshots as references.
Security
Are you afraid that your saved screen recordings may fall into the wrong hands? You can easily avoid such fears with the top-level security of an exemplary screen capturing tool. You can share your screenshots from any device with others securely with password protection. In addition, if you save the files on a cloud, you will receive instant notifications whenever someone shares your files via email.
Audio Recording
Another helpful feature of any top-class screen recording tool is the audio recording feature. It allows you to record high-quality audio with a single tap of your mouse button. This feature helps improve your engagement with your customers. With this feature, you can create professional-quality audio and boost your consumer engagement and company conversions.
Benefits of Using a Screen Capturing Software
Using a suitable screen capturing tool adds numerous benefits to any business organization. This tool makes it very simple to record anything on a computer screen. Some of the benefits of using such a tool are listed below.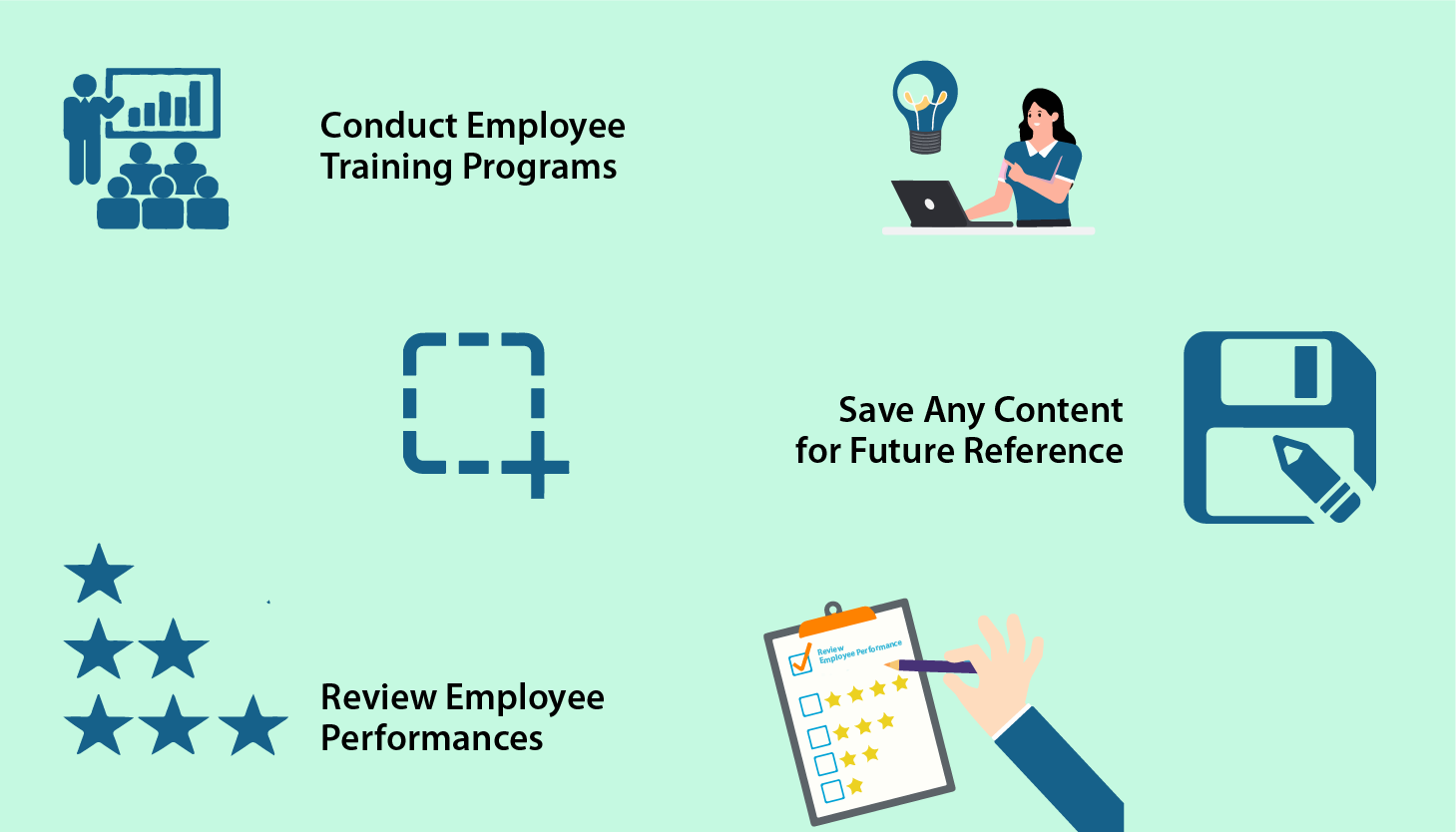 Conduct Employee Training Programs
You can boost the effectiveness of any employee training program by using a screen recording tool. After successfully taking screenshots of their performance data, your next step will be training them properly in areas that need improvement. With the help of a screen capturing tool, you can record various tutorials yourself and carry out different employee training sessions.
You can use the tool to show practical examples to your employees during the training sessions. This will also help your employees understand the concept clearly. It will enhance their knowledge base and help them perform better in the future. The practical approach helps in better understanding for any person.
Save Any Content for Future Reference
When you use a chrome screen capture, you get the option of saving your content. Doing so will allow you to use the content for future reference. In addition, some of the best screen capturing tools will allow you to trim the content or the videos according to your needs in the days to come.
Review Employee Performances
All types of business organizations feel the need to regularly review their employees' performances. It is vital to get a clear idea of the status of their employees as far as customer service is concerned. Although your employees may toil hard all year round, screen capturing their regular performance data will help you understand where they stand.
Some of the Free Screen Recorder Chrome Extensions
As per the prior discussion, various screen recorders are available for you. Therefore, choosing the correct application is essential to fulfilling your needs. Some of the best free screen recorders as Chrome extensions are hereunder.
NinjaCapture
Screen capture has become an essential part of any business. Many such tools can help you record a screen. However, most of them will come with a high price tag or limited features. NinjaCapture does not fall in this category. It comes with a free Google Chrome extension that lets you capture, share your screen, record, and save data.
Some of the features of NinjaCapture are:
Webcam support
Screen recorder
Audio recording
Integrate with storage apps
Screen Capture
This is another free-to-use screenshot chrome extension,You can use to record any video from a camera or capture a video, webpage, or anything on a computer screen. Again, it is free to use, and there is no need to sign up to use the tool.
Primary features of Screen Recorder include:
Get a warning before deleting any unsaved content permanently.
Record any audio from your computer system and microphone together.
Auto-save all the captured content and recover the same after a system crash.
You can skip the recorded video while playing it.
Nimbus capture
Another feature-rich and free-to-use screen recording application is the Nimbus capture. It comes with a free Chrome extension, and the application allows you to capture an entire desktop screen or just a portion of a window or webpage. In addition, you can use the tool to add your voice-overs and webcam recording while creating videos.
Key features of Nimbus capture are:
You can capture an entire screen or parts of it using the tool.
It gives you the ability to edit screenshots with its powerful editor and screenshot tool.
You can trim and crop your screencasts.
Fluvid
This is an online video recording and screen capturing tool. Fluvid is one of the best for conducting quality analysis, lectures, making marketing videos, and live streaming. It is one of those few screen recording tools that are easy to record, quick to edit, and ready to share. In addition, it comes with a free Chrome extension that you can use anytime you want.
Some of the features of Fluvid are:
Password protected.
CTA button and lead form.
It comes with a drawing tool.
Allows you to crop and trim content.
Screenity
It is one of the most potent screen recording tools for Chrome. Screenity allows you to record, explain, edit, and do more. In addition, the application helps you make a recording that will be suitable for education, giving detailed feedback and work and giving clear explanations to students.
Key features of Screenity are:
Focus on your mouse, highlight your clicks, or hide them from being recorded.
Trim to remove sections of your recordings.
Make unlimited captures of your desktop, camera, tab, or other application.
Screencast-O-Matic
The last in the top free-to-use screen capturing tool list is Screencast-O-Matic. It is a straightforward and intuitive tool that lets you create, edit, and communicate with images and videos. You can use the tool for work, personal, and educational purposes.
Some of the features of the Screencast-O-Matic are:
Host and share captured content.
Save captured content for future reference.
Edit your videos easily.
When you talk about screen capture tool, the chances are that you will find an ocean full of them. The main challenge lies in choosing the right one to solve your purpose. If you are looking for a free screen capture chrome extension, those mentioned above should solve your needs. However, it will be a good practice to compare different screen capturing tools and then take the final decision.
What Makes the Best Screen Recorder Extension?
#1
Record unlimited HD quality videos
#2
Take screenshots of entire screen, a selected area, and clipboard
#3
Edit screenshots and videos using advanced annotation tools
#4
Get access to unlimited recordings for FREE for 3 months
#5
Upload files securely to cloud applications like Drop box, Google Drive and 500Box
#6
Share recording links and get reviewer comments
#7
Personalize screenshots, videos with no watermarks
#8
Manage privacy settings to public, private with auto-generated password
#9
Unbelievable pricing - the lowest you will ever find
#10
Everything your business needs - 50 apps, 24/5 support and 99.95% uptime
Join the SaaS Revolution
All-in-One Suite of 50 apps

Unbelievable pricing - ₹999/user

24/5 Chat, Phone and Email Support