Three Biggest Ways Screenshots can Improve Docs, Powerpoints, and Emails
We all love a pretty picture and often take screenshots of media. Well here are a couple of ways that screen capturing software can improve your documents.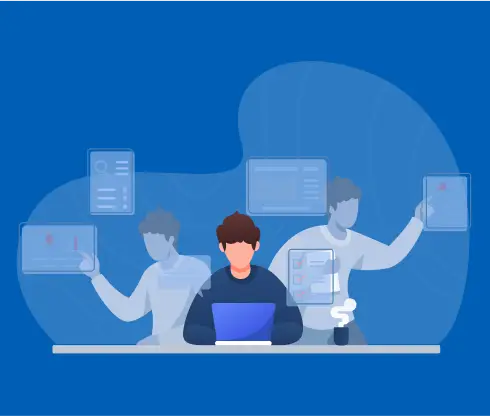 People don't come to events to listen to you read words off a slide. They had come to hear you deliver an important speech. Visuals are also the most effective means of conveying information. In truth, studies indicate that individuals absorb information faster and remember it better and for longer when it is given visually rather than orally. Not only can a visual presentation assist your audience, but it will also benefit you. As a result, not only will your audience appreciate and benefit from your presentation, but you will also feel like a better presenter! It's a win-win situation!
It is apparent that not everyone has the skill of describing things with perfect details, and in a way, their audience will understand. Screen captures serve as a great way to highlight information that was unearthed during the research leading to the creation of the presentation. Hence, the technology of screen capturing software helps capture the screen of the user as is. Screen capturing software like ninjacapture.com has evolved from basic screen capture to include more useful options like screen recording and making annotations on screen captures.
What is a Screenshots?
A screenshot, often referred to as a screen capture or a screengrab, is a digital picture that depicts the contents of a computer display. The operating system or software on the device that powers the display creates a screenshot. While many devices now have a built-in screen capturing feature, several screens capturing software, such as Ninjacapture.com, provide more than just screen capturing. With Ninjacapture.com, screens may be captured, annotated, and shared.
NinjaCapture's specialized screenshot capture capabilities make it simple to communicate what you're viewing with coworkers and customers. In addition, its integrations with third-party services for sharing and saving make it compatible with major cloud storage and business apps such as; Google Drive, Box, Dropbox, OneDrive, Ninjacapture Cloud, Slack, Teams, and Skype logos.
How to Take a Screenshot
Screen capturing software, such as Ninjacapture.com, is one method to capture a screen image. This screen capturing software allows you to select the screen section you wish to capture and transfer to the Windows clipboard. In contrast, every version of Windows includes two built-in methods for taking screen pictures. They're both free and work on any Windows-based machine.
The first method captures the whole screen, including the bottom start bar and any other running programs or sections of the desktop. To copy the whole screen to the Windows clipboard, go to the screen you want to capture and use the Shift-PrtSc key combination (hold the Shift key and press the Prt Sc key). The picture from the clipboard may then be pasted into the software where you want to use the screen capture.
The second method is the same as the first, except it just captures the active application window and ignores the rest of the desktop. This is typically more useful when we want to show a certain Web page or screen in an application. To capture only the application window, navigate to the screen you want to capture, double-check that it's the current window (the title bar shouldn't be dimmed), and then hit the Alt-PrtSc key combination. Then paste the screenshot from the clipboard into the software where you wish to use it.
As stated earlier, the above methods are used where screen capturing software is not employed. However, using screen capturing software can have some pros, like editing the screen capture before saving or sharing.
How Screenshots Improve Your Docs, Powerpoints, and Emails
Screenshots assist in breaking down your text into more digestible chunks, clarify essential points, and provide a visual element to your papers that will aid users in absorbing and remembering information. For screen capturing software such as ninjacapture.com, there are added options like annotations and editing, which makes it possible to export your screenshots having inputted all added information to it. In addition, a screenshot or two in your email, Microsoft Word document, or PowerPoint presentation may be a welcome departure from the usual approach. Here are three ways that screenshots may help you communicate more effectively;
Screenshots Aid Clarity
Screenshots are a representation of what words may be used to explain. This means that seeing the ideas or message being sent will be more comprehensible to the listener than reading words of description. Experience is the best teacher, and in this case, experience is comparable to demonstration, which is another benefit of using screen capturing software. Many people dread powerPoint Presentations. Nothing is more tedious than listening to a slideshow of text being read out.
Words alone can often make it difficult to communicate a message properly to your audience, especially when discussing something abstract or visual. You may reduce the possibility of confusion between you and your audience by including strong supporting screen captures from a screen capturing software in your presentation slides or live polls. This is crucial if you're debating and voting on a major choice and want to ensure everyone is on the same page.
Using graphics on your slides, such as screen captures of data dashboards with arrows, to direct your audience's attention to the areas you want them to focus on. By using screen capturing software to do this, they won't have to expend as much brain power to recognize, interact with and remember crucial information this way.
Do you find your audience looking at you blankly or frowning at your slides regularly? A dense and intricate message may be your downfall. We all have to convey tough topics from time to time, but the key to effectively breaking down the material into manageable chunks. These chunks can come through screen capturing software and the use of screenshots.
Even if you're utilizing live polls or quizzes to engage your audience throughout your presentation, be sure to shorten long words and include visuals where needed to make your point clear. You'll undoubtedly lose important poll involvement if your audience has to re-read your questions or response alternatives to figure out what you're saying.
According to Bradley Nice, Content Manager at ClickHelp.com; If you have a valid use for screenshots, you can use them and make reading more interesting.
Screenshots Encourage Engagement
The attention span of humans could be shorter than that of goldfish, which is bad news for presenters. The first step in engaging an audience is to capture their attention, but this is becoming increasingly challenging with so many distractions around us (did someone say smartphones?). According to a Forbes article, displaying startling facts or visuals before delivering essential ideas is a wonderful strategy to catch your audience's attention. Such visuals are easily and efficiently acquired through using screen capturing software.
After you've gotten your audience's attention, you need to make sure they retain the information you delivered; after all, engagement for the sake of engagement isn't a KPI for you. According to HubSpot, when we match a relevant image with information, we recall 65 percent of the knowledge three days later, compared to just 10% when we don't use an image. As a result, using relevant images generated using screen capturing software can aid in the creation of a more memorable presentation.
Set up live polls and quizzes with photos from your presentation to evaluate the audience's understanding of the material you presented, resulting in higher overall presentation success rates. Because two-thirds of people learn better when presented visually, what better method to increase engagement in your communications than using screen capturing software? Thus, using screen capturing software will help bring the presentation to life and engage your audience.
Add visuals using screen capturing software to the mix to make icebreakers and opinion polls more inclusive. Images have a global appeal. Unlike humorous limericks or clever jokes, comprehending a picture takes minimal background or language knowledge. Consequently, regardless of any language hurdles that may exist, your activities will appeal to a broader audience and establish an engaging connection.
Screenshots Reduce the Number of Words Needed.
Reading too many words can be exhausting and unmotivating. It's a dull manner of presenting that only serves to bore people. With screen capturing software, fewer words are required. This is because the snapshot already depicts what the numerous words would say. It is far simpler to demonstrate than to describe, and screenshots fulfill this function.
This is especially handy for procedural or technical documentation that includes step-by-step instructions with screenshots. They break up the text and can help you express your idea more clearly by visualizing what you're attempting to say with only text. Using a screen capturing software like ninjacapture.com, you can easily take screenshots and annotate the directive you want to communicate.
Even if your material isn't a how-to guide or otherwise shows steps, incorporating a related image may still offer a lot of value and help people remember what they've learned. To demonstrate a sequence of actions, cropped pictures of a screenshot can be shown. This means that the use of screen capturing software goes beyond description alone but also involves a method of ingraining your message in your audience's memory. In deciding to use screenshots for your presentation, you'll need to consider the following:
1. Identify 3rd-party Examples Early
Start gathering any third-party screenshots you might want to utilize to illustrate your points after you have a presentation outline or a basic concept of your topic. Knowing what examples you'll use ahead of time might help you estimate how much time you'll need to seek for permission later.
2. Consider What Might be Acceptable
Understand what users are typically more acceptable to content owners before you start integrating specific screenshots into your presentation. Some users might be troublesome and result in authorization being denied. Many firms, for example, will not allow you to image modify their screenshots. Cropping and scaling may be OK, but blurring, obscuring, or drawing over material is almost always unacceptable. Consider it from the standpoint of the product owner: they don't want you to misrepresent their material.
Companies may also be put off by the use of screenshots in a negative light. You could be delighted to locate a site with a bad example of a web form for your lecture about making forms more useful, but this use could be deemed defamatory by certain firms. Of course, if your screenshots are used in these ways, you may still ask for permission. Some businesses don't mind being held up as a bad example. When requesting clearance, be precise about how you'll be utilizing these assets, and keep in mind that these uses are more likely to be refused than screenshots that haven't been altered and are being used favorably.
3. Determine if You Need Secondary Approvals
Some screenshots may contain content that is not the property of the product company. Screenshots of social networking applications that incorporate postings made by others are one example. If your screenshot incorporates their work, you'll need to get permission from each of those content owners unless the product firm has worked out-license arrangements with its users.
You may prevent a situation like this by just capturing screenshots of your social network screens. News sites are more difficult to work around, and you may not be able to obtain permission to use screenshots that include images taken by AP photographers without paying for costly license agreements.
Wrapping Up!
Instructional presentations in the design and tech world often benefit from examples outside of a speaker's work. If you're a presenter or working towards being one, chances are you've realized how helpful 3rd-party screenshots and recordings can be in illustrating a point and how easy they are to capture from sites and apps with screen capturing software like Ninjacapture.com.
Thinking back to that time, you just couldn't figure out the processes your IT guy gave you to fix that minor issue, or that moment when you couldn't take reading any more words on how to do something, you will cherish the convenience which screens capturing software have brought. Screenshots are also a great way of sharing relevant information that description with words will not favor in your presentations. Tipping the scale from simple descriptive talk to more demonstrative screen captures.
What Makes the Best Screen Recorder Extension?
#1
Record unlimited HD quality videos
#2
Take screenshots of entire screen, a selected area, and clipboard
#3
Edit screenshots and videos using advanced annotation tools
#4
Get access to unlimited recordings for FREE for 3 months
#5
Upload files securely to cloud applications like Drop box, Google Drive and 500Box
#6
Share recording links and get reviewer comments
#7
Personalize screenshots, videos with no watermarks
#8
Manage privacy settings to public, private with auto-generated password
#9
Unbelievable pricing - the lowest you will ever find
#10
Everything your business needs - 50 apps, 24/5 support and 99.95% uptime
Join the SaaS Revolution
All-in-One Suite of 50 apps

Unbelievable pricing - ₹999/user

24/5 Chat, Phone and Email Support