10 Tips for Getting the Most Out of Your Screen Capture Browser Extension
User-friendly, power-packed, and effective screen capture software to record everything essential and fulfill your needs.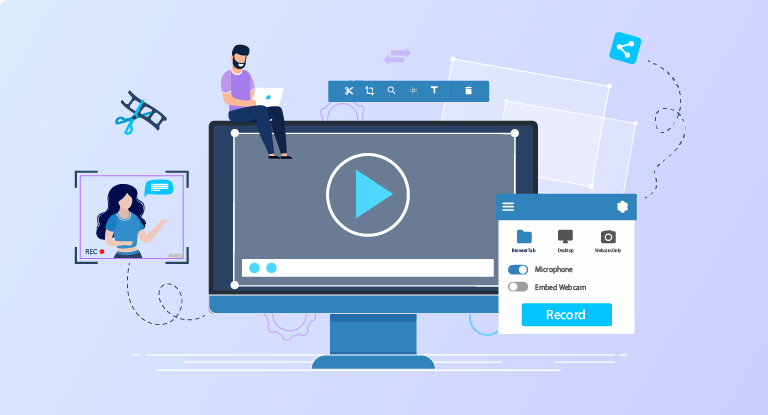 Capturing the content on your computer screen can be helpful for you in several ways. Whether you are a student, professor, businessman, or an employee of some multinational company, taking screenshots of anything you find essential on your computer can help you in the long run. You can use the captured screenshots for future reference and teaching and training purposes. In addition, students can use screenshots for education purposes.
What is a Screen Capture Browser Extension?
A screen capture, popularly known as a screenshot, is a digital image of your computer's display. You can save it as a captured image file on your computer's hard drive. There are various types of programs available to take screenshots. However, if you are a first-timer, it is better not to use any hardcore technical or unique program.
When you talk about a screen capture chrome extension, it refers to software that controls the way you take your screenshots. Such extensions can also work as additional features for your browser. The way a screen capture extension works are dependent upon the browser itself. When you download an extension, you will find an icon of the software appearing in the extension section of your browser.
Why is it Useful?
There is numerous software out there that have their browser extensions. Sometimes, you may wonder why download a browser extension in the first place. However, if you consider extensions in general, they let you enjoy a personalized web-browsing experience with the help of a few additional functionalities at the click of the mouse.
Similarly, if you download a screenshot chrome extension, you can easily and quickly take your screenshots whenever needed without wasting much time. Moreover, unlike downloading actual software, downloading an extension will not imply seeing a new icon on your home screen. Instead, you will find a smaller version of the icon hidden in the extension section of the browser.
10 Helpful Tips to Get the Most Out of Your Screen Capture Browser Extension
Whether you find the need to use screen capture software every day or occasionally, it is better to have such a tool in your browser. Here are some tips to help you get the most out of your screen capturing browser extension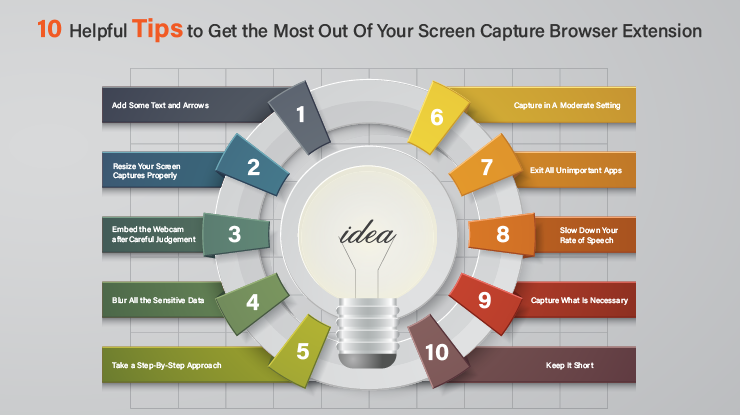 1. Add Some Text and Arrows
Although this may seem like an unimportant tip for most of you, adding texts and arrows to your screenshots can make it more engaging. In addition, adding some texts and arrows can point out the essential parts of your screenshots to the person with whom you intend on sharing them. For example, you can add arrows to point out spikes in your company's annual sales.
2. Resize Your Screen Captures Properly
It will be an excellent idea if you plan to add a few screenshots to your presentation. However, there may be situations wherein you may feel the need to stretch your screenshots a bit to prevent the arrows and texts from making them look all jammed up. Unfortunately, this may cause the image all distorted and blurry. The best alternative would be to resize the screenshot using image editing software. This will prevent the image from getting all pixelated.
3. Embed the Webcam After Careful Judgement
If you wish to customize your screen recordings, a good way is to integrate your webcam. However, it can easily get overemphasized. Your viewers will be looking at your face while viewing your video. Although it is great for presentations or descriptions, it can sometimes be rather disturbing. Thus, it will not be a bad thing to place your webcam in such a way as to reduce the extensibility of the recording.
4. Blur All the Sensitive Data
You may have to share a screenshot with another person within short notice with some pieces of sensitive information. You can blur out the sensitive image section of the screenshot and share it with others. Using an effective screen capture tool such as NinjaCapture makes it easier.
5. Take a Step-By-Step Approach
Do you have to train someone on something? Taking screen captures will be a great way to do so. You can show things that you intend to teach others. For example, if you write a lengthy piece of document or email trying to explain something important to another person, that person can quickly feel lost in the middle of it. The best alternative would be to use a screen capture browser extension and take screenshots to demonstrate. You can take screenshots of every step or number the different screenshots. This will help the recipient understand what you are trying to explain very easily.
6. Capture in a Moderate Setting
When you need to take screenshots, it will not be a bad idea to get rid of all possible disturbances from bothering you. This will help you take screenshots peacefully instead of being in a hurry. Furthermore, since screen captures will work as future references for you, it is better to use a screen capture browser extension and use it to take proper screen captures.
7. Exit All Unimportant Apps
Many people tend to play video games in the middle of doing work. Imagine taking a screen capture for your boss and sending it across only to find the gaming website appearing on the capture if you are also one of them. It can be embarrassing and will indeed spoil the entire screenshot. Thus, it is better to eliminate all the unnecessary websites or apps from your computer before clicking a capture.
8. Slow Down Your Rate of Speech
Are you planning to record your video of some sort? This type of screen recording may be helpful if you are a teacher or a trainer. In that case, it will not be a bad thing to reduce your speech rate while recording. It will be better to practice giving a speech before starting the actual recording. It will not hurt if you speak at a reduced rate than usual. This will help your listeners understand what you are talking about. If needed, they can increase the recording speed.
9. Capture What is Necessary
If the information you need to share with others is just a part of what is seen on your screen, there is no need for you to take a screenshot of the entire screen. Instead, select the area or the part of the screen that you need to capture and ignore the rest. This will eliminate any unnecessary visual noise and reduce the overall size of the file.
10. Keep it Short
When you try and record a long video, it can make the effort look pretty clumsy. Viewers might also lose interest in watching a lengthy video after a while. Thus, it will be better to record short videos or break a training module into parts so that the videos will be short and succeed in keeping your viewers engaged.
What is NinjaCapture?
The best way to capture your screen and share it with others is by using a screen capture browser extension that does everything for you in one place. NinjaCapture is just the right software for you. With the help of this software, you can quickly share your video and screen with anybody. You can do so from any device whenever you want. In addition, you can take screenshots of an entire web page or just a part of a page.
If you are looking for a user-friendly screen capture browser extension, then NinjaCapture is for you. You can opt from a range of screenshot options, such as visible page, full page screen capture, or a select area. In addition, you may either take your screen capture on the count of 3 or in a single click. The best part is that NinjaCapture is available on Google Chrome and is easily downloadable on multiple devices.
Apart from taking screenshots of your computer display, you can also use the tool to record videos and audio files. In addition, NinjaCapture accepts web camera recording that helps you add a personal touch with your online audiences. You may either toggle between the screen and webcam recording during recording a video or resume with both options.
Some of the features of NinjaCapture are:
Screen recorder Audio recording Webcam support Screenshots Security
There are several ways to save any critical piece of information or data on your display. However, the best method is to take a screenshot of the same. This holds for whatever type of content or data you talk about, whether video streaming, content on a web page or anything else.
Over the years, the importance of screen captures has increased and spread across all types of industries. People use this technology in schools, colleges, homes, offices, etc. No matter what you wish to record or on what device, a screen capture browser extension that can help you with it is NinjaCapture.
It is one of the most versatile and user-friendly chrome screen capture extensions that you can come across. NinjaCapture comes with several features that make the app one of the most beloved among all the users. Whether you wish to capture an entire web page or a part of it, record a video or audio, NinjaCapture can help you achieve it easily.
500apps is the creator of NinjaCapture. With a total of 39 applications under its name, 500apps promises to help your business grow in leaps and bounds. Apart from their user-friendly and efficient applications, you can also seek assistance from their 24/5 email, chat, and phone support teams. Visit their website and find out more.
What Makes the Best Screen Recorder Extension?
#1
Record unlimited HD quality videos
#2
Take screenshots of entire screen, a selected area, and clipboard
#3
Edit screenshots and videos using advanced annotation tools
#4
Get access to unlimited recordings for FREE for 3 months
#5
Upload files securely to cloud applications like Drop box, Google Drive and 500Box
#6
Share recording links and get reviewer comments
#7
Personalize screenshots, videos with no watermarks
#8
Manage privacy settings to public, private with auto-generated password
#9
Unbelievable pricing - the lowest you will ever find
#10
Everything your business needs - 50 apps, 24/5 support and 99.95% uptime
Join the SaaS Revolution
All-in-One Suite of 50 apps

Unbelievable pricing - ₹999/user

24/5 Chat, Phone and Email Support