Can a Site Detect Screen Capture?
Ninjacapture is a Tool that allows you to capture any webpage or view it on your desktop. It offers a simple, clean interface for you to look at content and share it with others.
If you wonder whether websites can or cannot detect when someone is using a screen capture tool to snap or record something on their web page, then the answer is yes and no. Let's clarify this answer a bit. Generally, websites don't have the necessary system privileges to detect anything you do outside the webpage. So, if you use a screen capture software like NinjaCapture to snap a photo or record the web page on your desktop or mobile phone, they won't be able to detect it. So, in this sense, the answer is no; websites cant detect user activities like screen capture. However, if the website has you download some software and install it, it can most probably recognize external screen capture tools being used on their web pages (if they want to).
But the main fact remains the same; a typical website has a tunnel vision restricted only to the domain of its web page that you have open on your browser. So you don't have to worry about a notification or alert being sent to the web page that you screenshotted or recorded something. After all, you're visiting a web page, not cheekily saving a snap someone sent you on Snapchat. Let's dive a bit deeper into this discussion and later talk about what else the website can detect apart from screen captures.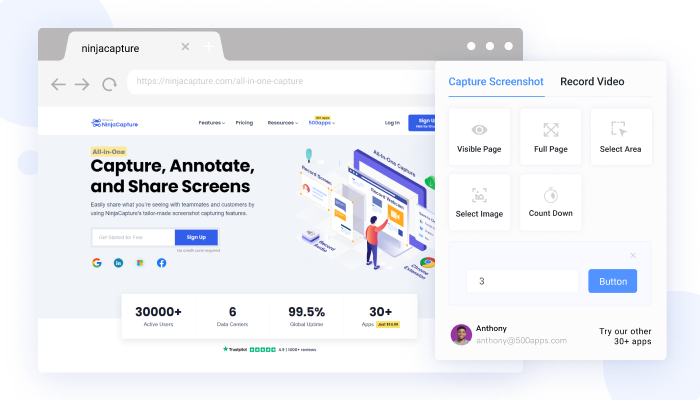 What Can A Website Detect?
Before we answer this, let's understand the nature of websites themselves. When you connect your device to the internet, you need a special application called a 'browser' to access the websites. Once you disconnect your device, you can no longer access these websites. In other words, you are accessing web pages on your device through a third-party application. So, as long as you're not interacting with the website itself, it can't detect anything.
The data is stored' inside 'your device when you take a screenshot or a screen recording from your device's in-built tools or through third-party apps like NinjaCapture. Unfortunately, none of this newly generated data is shared on the website, so it doesn't know what's happening. However, suppose the website you visit has sensitive information or data from which you can profit. In that case, it can use strategies like having you download a browser extension or an application before you can continue. The website has more than enough power to monitor and detect activities like screen capture in such cases.
But that's a pretty roundabout way of doing things, and most websites don't even bother going to such lengths. However, there are certain things that websites can natively detect and see. These include your 'IP Adress' and 'Cookies' (the annoying pop-up you see most of the time asking you to allow third-party cookies).
Your IP Address
An IP address is a unique footprint that separates your computer from the others on the internet. Although an IP address can reveal information such as your general location, it can't pinpoint your actual address. Otherwise, it would be a total invasion of your privacy. When you visit websites, they can see your IP address and the general location from where you're visiting them. Most people do hide their actual IP address by using VPNs to protect their privacy.
Your Cookies
Websites usually thrive on cookies to collect information, whether to improve the user experience or to misuse it secretly. Cookies hold data regarding what you do on the internet through the browser. Usually, a website needs your explicit permission to access your browser's cookies, but some websites don't even bother doing this (which is now illegal). If you looked up some appliances you wanted to buy for your kitchen on the internet and the very next day, get served with ads showing you deals on household appliances, that's because of the cookies you shared with the website you were visiting.
Is Screen Capture a Big Deal for Websites?
They host information or data that you can use and profit from when they own the intellectual rights. Most websites don't care now. They either use apps and require the users to pay a subscription for the services or data they want (like Netflix and Chegg), or they just put information others can wrongfully profit from behind pay-walls. So if you're screen capturing something and using it to profit from, make sure to give the original source proper credits. But you don't have to worry about notifying websites whenever you screen capture something.